CBSE Class 10 term-1 date sheet 2022
| Dates | Subject (Exam time: 11:30 am to 1 pm) |
| --- | --- |
| November 30, 2021 | Social science |
| December 2, 2021 | Science |
| December 3, 2021 | Home science |
| December 4, 2021 | Mathematics standard, Mathematics basic |
| December 8, 2021 | Computer application |
| December 9, 2021 | Hindi course-A, Hindi course-B |
| December 11, 2021 | English (Language and Literature) |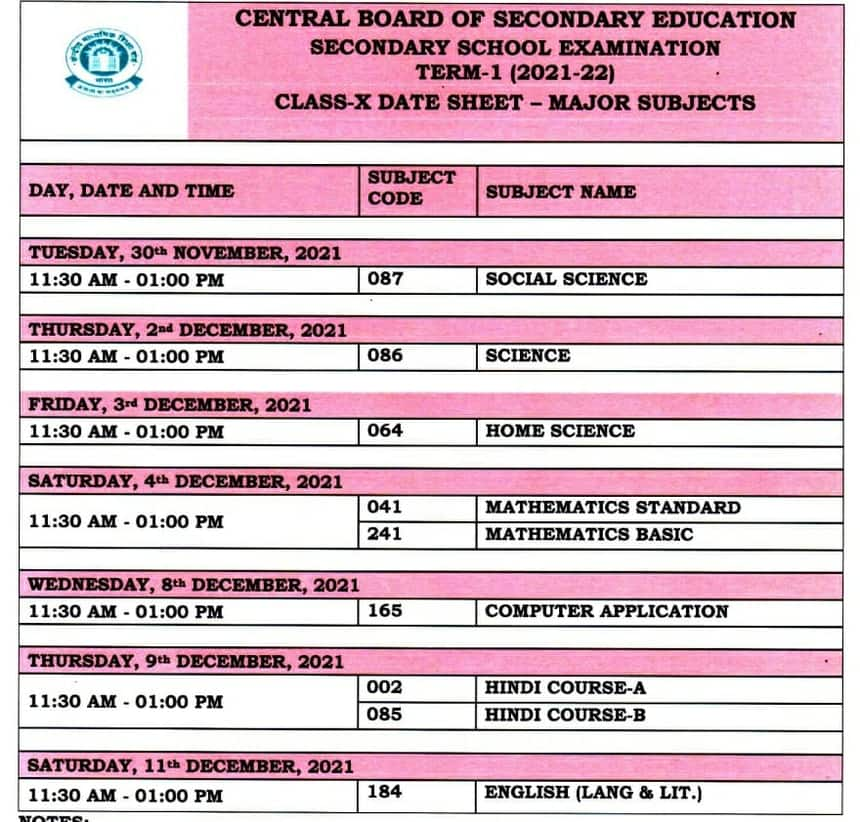 How to download CBSE term 1 date sheet 2021-22?
Go to the official website of CBSE board, cbse.gov.in.
On the home page, check the latest notification section and click on the CBSE board date sheet term 1 2021-22 link for the respective class.
A new page with the CBSE board exam 2022 date sheet Class 10 and 12 will be displayed.
Check the CBSE date sheet 2021 Class 10, and click on the download button.
Save the CBSE term 1 date sheet 2022 for future reference.
CBSE exam date 2022 for minor subjects
Minor subject exams will commence from November 17, 2021 for Class 10 and from November 16, 2021 for Class 12. A detailed date sheet for these subjects will be provided to schools. Students can get minor subject CBSE exam dates from their respective schools. The question paper for minor subject exams will be provided by respective schools.
Earlier, the board has released the circular and communicated that the CBSE board exam 2022 will be conducted in two terms and the date sheet will be released on October 18, 2021. The CBSE exam date 2021-22 for 10th, 12th exams will fall in November-December 2021.
CBSE has also released the latest syllabus for 2021-22 exams. Along with that, CBSE has also provided the sample paper for term 1 exams.
The CBSE term 1 2021-22 exam will be an objective type and the duration of this exam would be 90 minutes. The questions will be asked from the first half of the rationalised syllabus. CBSE is offering 114 subjects in Class 12 and 75 subjects in Class 10. The board has to conduct the examinations of a total 189 subjects.