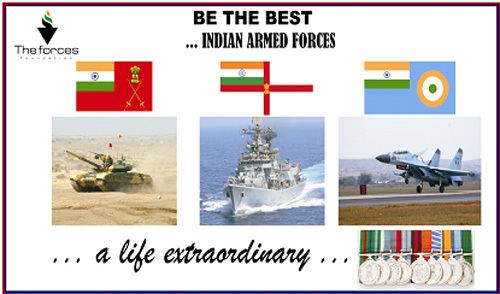 The Indian Armed Forces basically consist of the Indian Army, Navy, Air Force and the Para military forces. 
The Indian army plays a significant and good role for the people who live in India. They are the main force of India. Also, India has the most influential and many numbers' army. It is the third-largest force in the world. We all should have a good idea of the Indian army.
Indian Navy is the naval arm of India's armed forces. It is the world's fifth largest navy, with 55,000 men and women, including 5,000 naval aviation personnel and 2,000 sea commandos (MARCOS). The Indian Navy currently operates more than 155 ships including aircraft carrier INS Virat.
India uses its navy to increase its international relations through joint exercises, ports visits and human missions, including disaster relief. Indian Navy is increasing its capabilities as a real blue water navy; It is said in the principle of Indian Navy that it is a collective good of the nations
The Indian Air Force was officially established on 8 October 1932. Its first ac flight came into being on 01 Apr 1933 with six RAF-trained officers and 19 Havai Sepoys (air soldiers). The aircraft inventory consisted of four Westland Wapiti IIA army co-operation biplanes at Drigh Road as the "A" Flight nucleus of the planned No.1 (Army Co- operation) Squadron.